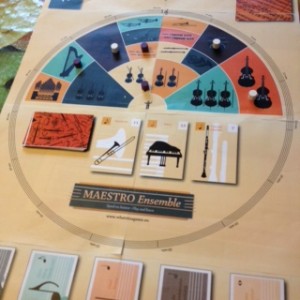 Maestro: an exciting board game about classical music
Do you like classical music or do you want to know more about it? Then you will enjoy playing Maestro, an original boardgame on the theme of classical music. You don't need any knowledge of classical music: anyone can play this fun game (for 2 to 6 players). The game comes with two variants, Ensemble and Symphony. Ensemble is the basic game which is also fun for children, and lasts about 30-45 minutes. Symphony is for advanced game play which includes strategic challenges, lasting for about 1.5 hours.
While playing Ensemble or Symphony, you will get to know the instruments of the orchestra and names of composers of all ages. By means of a QR code on each card you can listen to the music during the game and find out what it actually sounds like. Both games can be played in Dutch as well as in English.
Maestro has been manufactured with the help of many individuals through a crowdfunding campaign.